My business is all about you: mainly helping you feel comfortable and beautiful – and to do that, you'll have to trust me. Here are five random facts, so you can get to know me a little better:
1. I am crazy in love with my husband, Will (we've been married 8 years!)
2. I have 2 adorable kids who are pros at getting their pictures taken! (& the only kids I take pictures of.)
3. Our cats, Knightley & Fleur are pretty good sports when it comes to children picking them up randomly.
4. There's a special spot in my heart for all things Harry Potter.
5. Hobbies include: crafting, reading, exploring (Ledges is my favorite), & just spending time with friends & family.  I'm a pretty big homebody.
MODERN BOUDOIR MISSION STATEMENT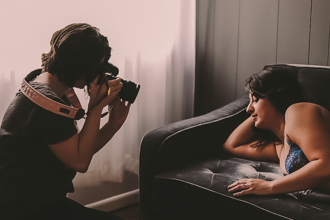 Modern Boudoir is a boutique studio that empowers and uplifts all women by giving you a fabulous custom experience. We help you see your beauty so you can carry yourself with confidence long after the boudoir session. Our studio is comfortable and stress free. We will pamper you with camera ready hair and makeup, then coach you through posing to ensure beautiful photos you can be proud of. Modern Boudoir promises to provide you with a quality experience that is fun, fabulous, and feminine.