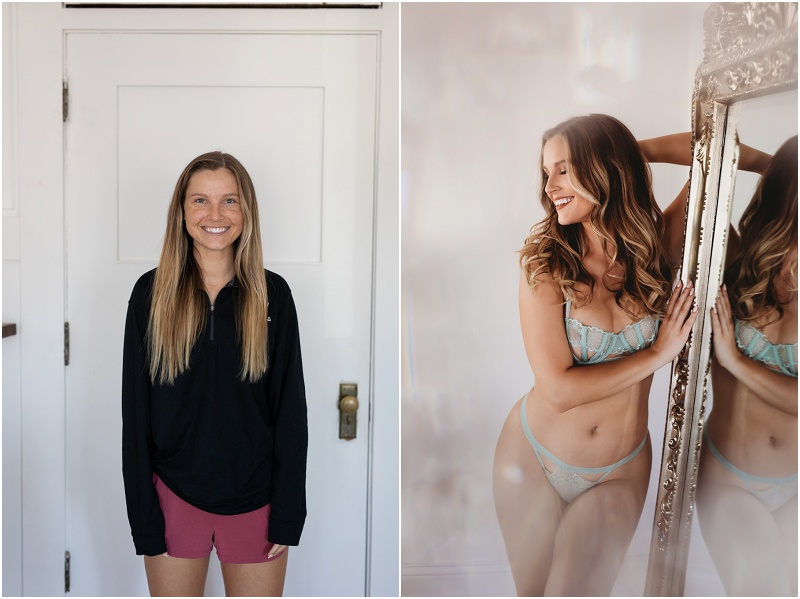 Did you feel comfortable throughout your session?

Leading up to my session, I was a tad bit nervous as this was something that was far from my comfort zone. The minute I walked into the studio, my butterflies quickly disappeared due to Cassie and Kati's friendliness. Throughout the session, Cassie directed me through it all and I could not have imagined a better experience. 11/10 recommend to anyone, and I would definitely do it all over again!

How did you feel when you first saw your images?

I was stunned. You never typically see yourself through that lens, so it was a really neat experience to see yourself that way. I truly felt beautiful, and have been much more confident in myself since my shoot with Cassie.
Tell your favorite part(s) of your experience

Honestly, the whole thing! First off, it was SO much fun – I had a blast hanging out with Kati and Cassie. But it was also just a very mood boosting experience too. We know as women how hard it can be to feel pretty, and do our best to not compare ourselves to the women you see on your IG feeds. But what Cassie did was soooo much more than just take pretty photos. I walked out of her studio that day a much more confident woman, and I am extremely thankful to Cassie for that!

What are your thoughts on your final products?

LOVE THEM. When I tell you having to narrow down to your top favorites is hard….. it's HARD. They were all stunning, and I cannot wait to see my fiance's reaction to them!
What advice do you have for other women who are considering a boudoir session?
Trust Cassie and her entire process, and be open to letting your guard down. It's not every day you get the opportunity to feel like a DAMN sexy lady, and Cassie is on your side to 110% make that happen for you.
Click here to contact me & start your boudoir experience!